Bunion Surgery Including before and after pictures of bunion surgery.
Updated 2013 03-03
Originally posted 2010 11-18
Bunion surgery is the most common foot surgery I do. Before I tell you about the actual surgery, I will describe what a bunion is and how a patient gets one. Below is a picture of a severe bunion deformity and a moderate to minor bunion.  See further below for before and after bunion surgery pictures. (Click any picture to enlarge)
Bunions are also called "hallux abducto-valgus" in medical terms. Hallux refers to the great toe. Abducto-valgus refers to position of the great toe such that it points towards the other, lesser toes and is rotated. The bunion deformity consists of the movement of two bones at the great toe joint. The further back bone, called the first metatarsal, moves toward the midline of the body and the toe bone, called the proximal phalanx, moves in the opposite direction toward the other toes.
Bunions are mostly genetic. Very rarely, people are born with a bunion deformity called a juvenile bunion, but almost all bunions occur later in life due to forces on the foot. People who have arches that collapse or feet that flatten out get bunions. In that sense, people are born with the genetic predisposition to get bunions later in life rather than being born with a large bump sticking out of the side of the foot.
People who get bunions have many different foot types. Some people have no arch when they're standing or sitting. Other people have a normal arch that collapses to a flat arch. Even people with high arches that collapse to a more normal arch can get bunions.
When the arch of the foot collapses, the force of the foot on the ground causes the great toe to decrease in its range of motion. This is called "functional hallux limitus". This simply means that the great toe cannot move through its normal range of motion as you push off the ground. Obviously when you push off, the toe needs to move somewhere. When the great toe cannot move straight up, the foot turns more to the side and you roll off the inside of the foot and great toe. This creates a force pushing the toe toward the other toes. Slowly over time the great toe gets pushed toward the other toes which in turn, pushes the metatarsal in the opposite direction.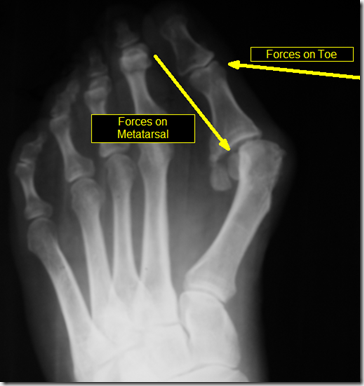 Symptoms of bunions: Some people can live with bunions for their entire life without having any pain. Many people experience pain with pressure from shoes due to the metatarsal bone sticking out. Other people experience severe pain in the joint with any range of motion. Many people report that they cannot find shoes to fit. Often people also report that their exercise and activity is limited due to the pain.
Below is a picture of an x-ray of a foot with a bunion inside of  a shoe.  It clearly shows how a foot with a bunion fits in a shoe.  This is a male patient.  As you can imagine, Men's shoes are much more forgiving than womens'.  Notice how the shoe is the proper size / length but the foot is too wide for the shoe. Not only does it put pressure on the great toe joint but also on the other side of the foot at the 5th toe.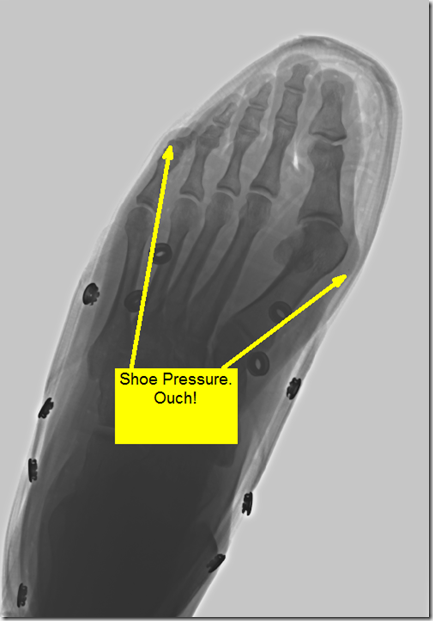 Cosmetics: Often people come into my office and report that aesthetics alone are the reason that they seek treatment for bunions. Many request that I perform cosmetic foot surgery for bunions. I often perform bunion surgery for cosmetic reasons alone, however, as an ethical physician, I have a lengthy discussion about this with patients: I describe to my patients that when a person comes in with a painful bunion and says they have a 6 or a 7/10 pain scale for example, I can do bunion surgery to make the foot look very nice and they may end up with a pain that is a 0 to 1/10. These people are very happy as their pain is significantly reduced and the foot looks much better. When a person comes in with a cosmetic complaint only about the bunion and a 0/10 on a pain scale, I warn them that they may have an occasional minor 1/10 pain after surgery. While there is a small chance of this, this is a concern. Due to the unique function of the foot in weight bearing, it is different than other cosmetic surgeries. In my experience, about fifty percent of these people proceed with the bunion surgery and fifty percent thank me for being honest and put it off for the future if and when they have pain.
Conservative treatment of bunions: Unfortunately, there are not many options for conservative treatment for bunions. If caught early, orthotics (insoles in your shoes) can alleviate some of the forces that cause the bunions. While this will not remove the bump on the foot, it will slow down or stop the progression of the bunion due to the forces I described above. Other conservative treatment for bunions address the pain due to the deformity. This includes changing shoes in order to accommodate for the large bump, anti-inflammatories, icing, padding and shielding, cortisone-type injections into the joint, and occasionally physical therapy.
Surgical treatment of bunions: I advised the patient that surgical treatment for bunions is necessary when the patient has pain that limits their ambulation, activity level and if they cannot wear the shoes they would like to wear. Surgery for bunions is elective. The patient chooses if and when they do it. Note: elective surgery is not the same as cosmetic surgery. Elective surgery is covered by insurance, cosmetic surgery is not.
The bunion surgery is done as outpatient surgery meaning that patients do not stay overnight. The surgery is done either in a hospital or an outpatient surgery facility. An anesthesia doctor (anesthesiologist) Will give the patient an IV. The procedure is done under sedation. This means that patients will be asleep, however, they will be breathing on their own. This is not general anesthesia which requires a tube down the throat to assist in breathing. Patients are required to have an adult pick them up from the surgery to ensure they get home safely after the anesthesia.
The type of bunion procedure I choose depends on how severe the bunion is. It ranges from simply shaving off a bump of bone, to cutting and moving bones, removing pieces of bone, joint implants, and occasionally joint fusions. The procedure normally takes me approximately 45 minutes to one hour to do. I make an incision on the side of the foot so that the scar is not visible. Some doctors put the scar on top of the foot; however, I feel there is no need to have a visible scar. Once inside, I access the bone and remove a small piece. I then make a cut in the bone and move the bone back where it belongs. I usually use a small titanium screw to hold the bone in place for healing. I then do any soft tissue rebalancing of the joint that is necessary. I also perform skin-plasty procedures to remove the excess skin that has formed over the bunion over time. This is a cosmetic addition to fixing bunions. The goal is improving the feel and aesthetics of the foot. I then close the skin with a plastic surgery type stitch that is underneath the skin surface so that it scars less. Having trained with plastic surgeons during my residency, I perform a more cosmetic bunion surgery than almost all other surgeons. (For more information about this see my procedures page of my website by clicking here!)
What to expect after bunion surgery: I almost always perform bunion surgery on Fridays. This allows the weekend for resting. I instruct patients that they must remain at home for Friday, Saturday and Sunday. (Walking to the bathroom and kitchen only). People that have desk jobs may do the surgery on a Friday and return to work on Monday, however, if they can take one week off of work I recommended it. People that have jobs that require them to be on their feet all of the time, I advised to take three to four weeks off of work. After the surgery patients will wear a surgical shoe or fracture brace for four weeks. Some patient have no pain at all and some patients have a lot of pain. Most people have moderate pain that is well controlled with the pain medicine that I prescribe. Note: there are surgical techniques that I employ that reduce the amount of postoperative pain. I also prescribe five days of antibiotics after the surgery to prevent infection. Patients must keep the foot dry for 10 days. I dispense a shower bag before the surgery. I will see patients once a week after the surgery until I feel that they are stable to start skipping weeks. I usually do the first visit on the Wednesday after the Friday of surgery. At this time I inspect the foot to make sure there are no problems. I will take an x-ray and usually wrap the foot in a soft cast. They return the following Wednesday, 10 days after surgery. At this time I usually let them get their feet wet and rewrap the foot themselves.
After spending four weeks in the surgical shoe or the fracture brace I allow patients to start wearing loose-fitting shoes or open shoes in the warmer weather. At this time they may start to increase their walking a bit. I advise them that they will most likely not be doing exercise until six to eight weeks after surgery. Initial exercise includes walking and using a stationary bike. After eight to ten weeks they may start to do an elliptical machine or more weight bearing exercises. At eight weeks, I advise them that they may start using any shoe that they fit into.
Below are just a couple of examples of before and after pictures of bunion surgery.
Bunion Surgery Before and After
The first example of before and after pictures of bunion surgery are of a severe bunion. The after picture is at only three months.
This patient's x-rays are show below before and after bunion surgery.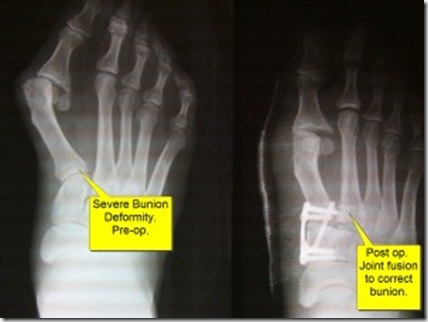 Below: Another bunion surgery before and after pictures.  The after pictures are 4 years after surgery. This patient had both of her feet done.
Left: (Below)
Right: (below)
The next patient had bunion and tailor's bunion surgery. Fifth metatarsal osteotomy and first metatarsal osteotomy procedures. The after picture is immediate, still on the operating table. Note: the discoloration of the foot is due to the Iodine and the fact that the tourniquet is still inflated. I use a tourniquet (like a blood pressure cuff around the ankle) to stop the bleeding so I can see better while operating. (Below)
I hope you found my post on bunion surgery informative. If you have any questions please feel free to post a comment or email me, Dr. Sergi. Please also see www.cityfootcare/procedures
© Copyright 2010 Best Podiatrist NYC Emanuel Sergi, DPM City Footcare, PC 122 E 42nd St Ste 2901 New York, NY 10168 212-871-0800 www.cityfootcare.com cityfootcare@gmail.com Specializing in foot surgery, bunion surgery, hammertoe surgery, cosmetic foot surgery, general podiatric surgery.
211 Comments