Case Study: A large bunion with overlapping second toe
Today I would like to share with you a surgery that I performed six months ago. This patient came in today for her 6 month follow up visit. She said she was doing great, running, yoga and wearing high heeled shoes at times.
Large Bunion
This patient is a 65 year old professional. She came into my office with a complaint of pain in her great toe joint and second digit hammertoe. She had pain with exercise and could not wear feminine shoes. She said that she would like to be able to wear high heels with her business suits as she works at a big NYC bank and needs to look good for work. She also wanted to be able to exercise without pain.
Her preoperative photos and x-rays are below:
You can see that she has a large, dramatic bunion with the second toe overlapping the great toe.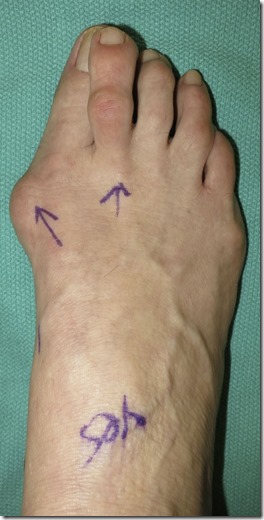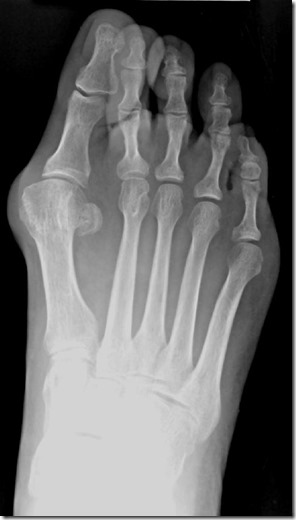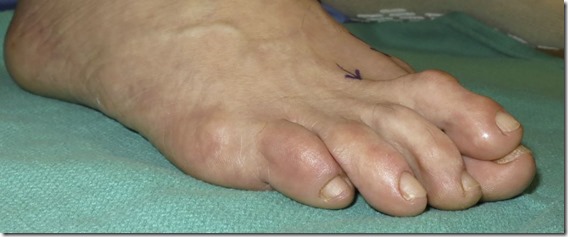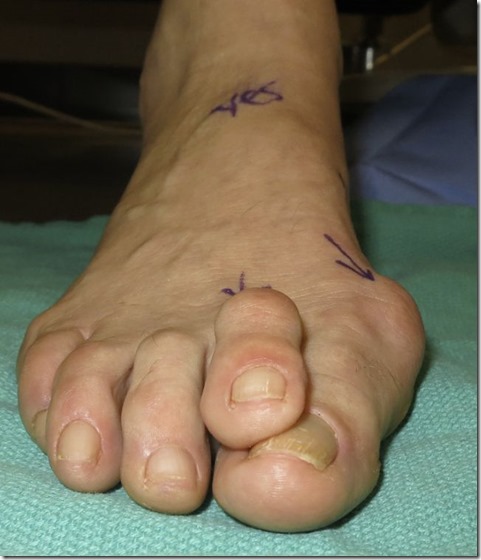 I performed four procedures to correct for her bunion, hammertoe and dorsally dislocated second toe joint.
1) I performed a scarf osteotomy of the first metatarsal. I love the scarf osteotomy. It allows me to get a huge correction of the first metatarsal while allowing the patient to partially bear weight immediately postoperatively. I often do 'opening base wedge osteotomies' and 'closing base wedge osteotomies' but they require the patient to be on crutches for 10-12 weeks. The scarf osteotomy is one of the most challenging procedures to perform but I do a lot of them and have mastered this difficult procedure. The base wedge osteotomies allow for more correction than the scarf so some patients with large bunions will still need to use crutches when I do them.
2) I next performed an 'akin osteotomy' of the great toe, proximal phalanx. If you can imagine that the toe is connected to the metatarsal bone when the metatarsal is moved toward the second toe, the great toe goes with it. I then move the great toe back the other direction by adjusting the soft tissue holding it. When I cannot get the great toe to be parallel to the second and it still leans toward the second toe, I then cut the great toe bone and take out a small wedge to move it away from the second toe.
3) I next performed a lengthening procedure of the tendon and other soft tissues holding the second toe upwards.
4) I next performed a fusion of the bones in the second toe to keep it straight forever. I like to fuse toes with screws rather than pins or other fusion implants. I find that the screw holds the toe straightest and I am able to compress the two bones together. This allows for the highest success rate of getting those two bones to heal together. Another advantage of using screws over pins is that the pin needs to stick out through the skin. This allows for a higher chance of getting an infection and the patient needs to keep their foot dry for four weeks versus 12 days with the screws. I then take the screw out with a small surgical procedure under local anesthesia anywhere from 6 weeks to 6 months after it is put in depending on the patient. This is one of the only times I remove screws postoperatively.
The below x-ray was taken three months postoperatively. You can see healing of the bones, especially the fusion of the second toe bones next to and around the screw.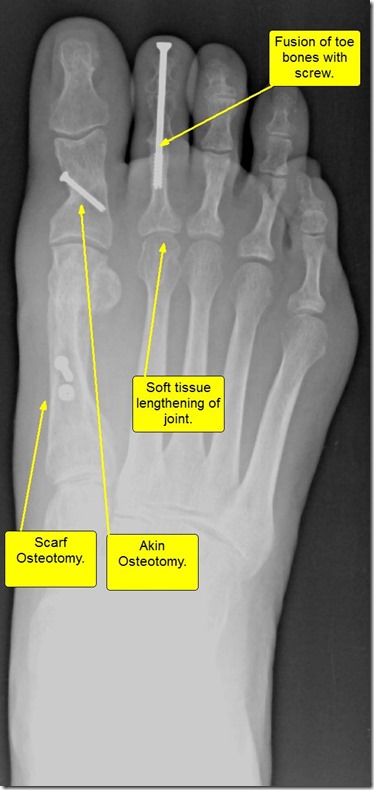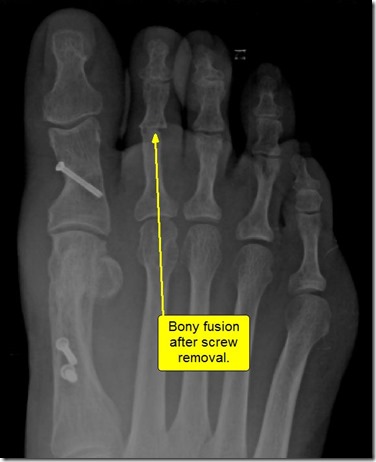 Below are before and after pictures of this surgery for a large bunion with overlapping second toe.
Please note also that these after surgery pictures were taken at only six months. It takes up to a full year for the scar tissue to go down and the foot to look less 'fat', and for the scars to mature completely. I'll post pictures again in an additional six months.
---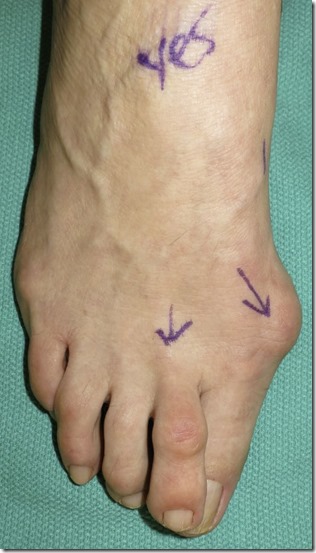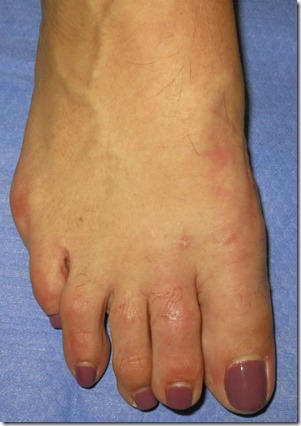 ---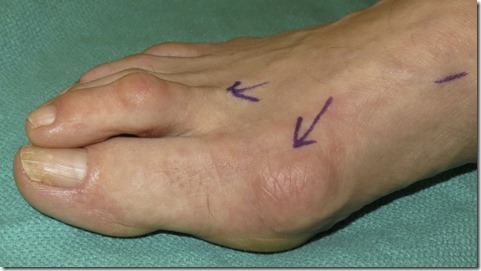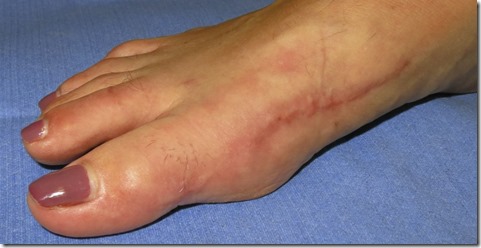 ---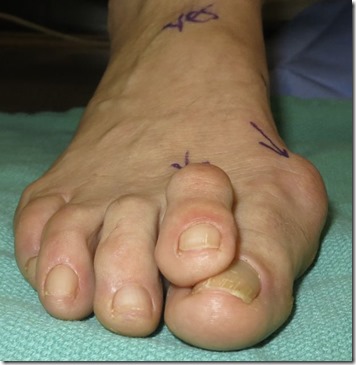 ---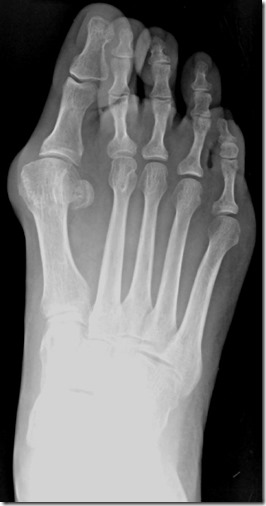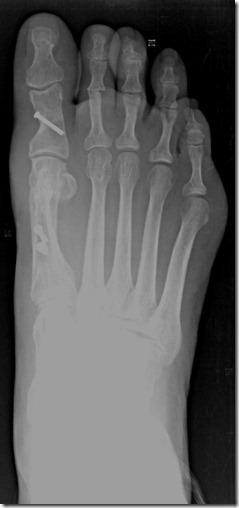 ---


---
I enjoy treating the most challenging problems but also enjoy the more 'regular' surgeries.
I hope you enjoyed reading about this challenging bunion surgery as much as I enjoyed writing about it and presenting it you.
If you are considering bunion surgery or any other foot surgery, please call my office to schedule a consultation with me.
Emanuel Sergi, DPM